Discover more from Out of the Blue
By writer and artist Mari Andrew, exploring life's full range of colors
Over 23,000 subscribers
How to Be Strong
Lessons from lifting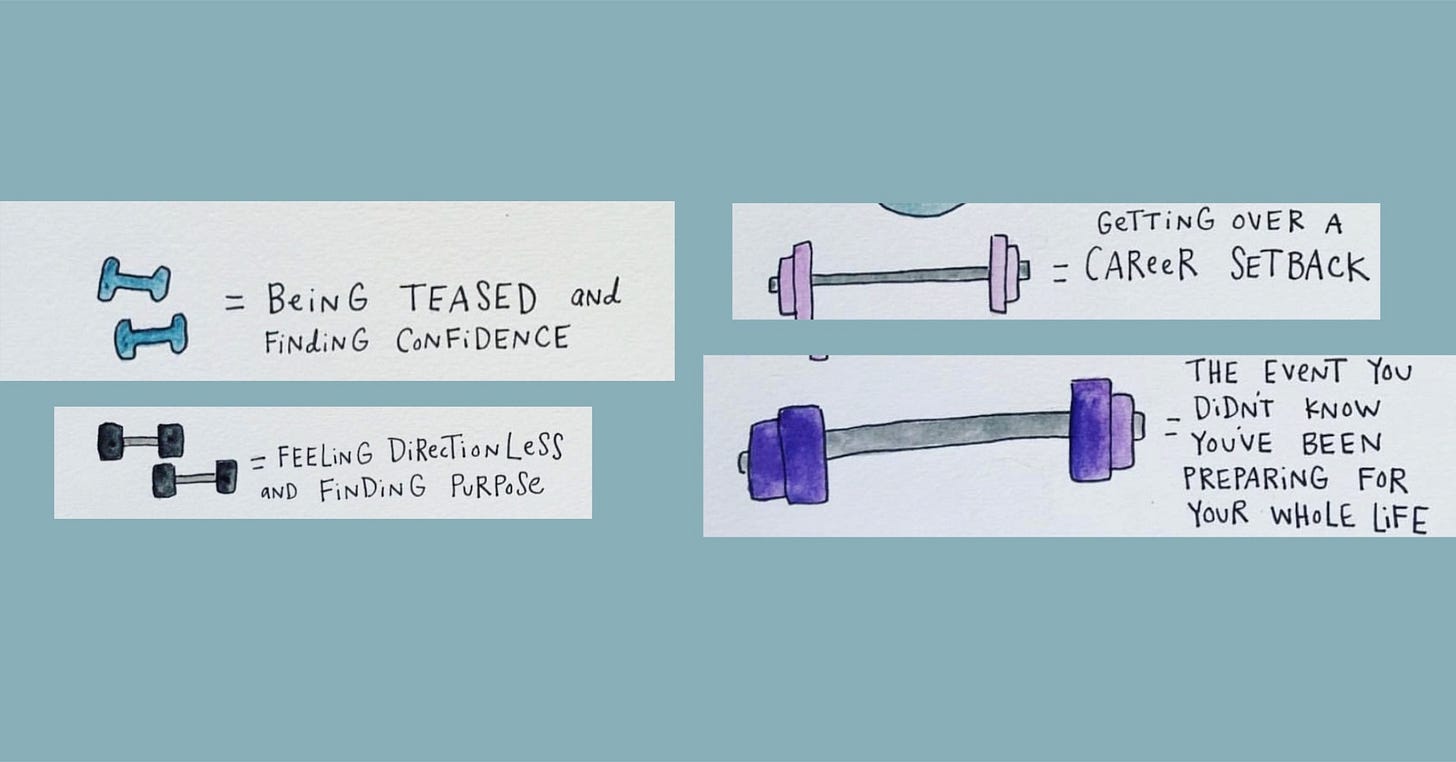 It all started with my psychiatrist. I told her that while most people find slow, meditative exercise to be calming, it's a breeding ground for my intrusive thoughts and painful ruminations.
"Peace and quiet isn't for everyone," she said, shocking my whole world-view. "For people with anxiety, it can be hellish to sit—or stretch—with your thoughts for an hour. Have you ever tried more intense exercise? Maybe your brain will appreciate not thinking so much."
Not thinking? Say more…
Over the next few weeks, I tried a bunch of different classes and machines that caused my body great agony, yet, indeed, mitigated the dreaded brain activity. It was amazing! I felt like the first person who ever discovered squats.
Then it got a little more interesting.
I started using weights. Big weights. I started taking weight training classes. I learned all kinds of new vocabulary (snatch, swing, deadlift). My brain chilled out on its usual intrusive antics, instead becoming hyper-focused on the present moment. In a few days, I had a new love.
Because I'm a female millennial, weightlifting didn't seem like a real option for most of my life. I remember toying with the idea a few years ago, and a work acquaintance responded, "Why? It doesn't make you skinny."
What a...bummer...of a reaction.
But I, too, had certainly been conditioned that women "shouldn't" be "bulky." I'm accustomed to workouts marketed only to women using thin shiny ballerina-models in full makeup who show that we can "sculpt and tone" without breaking a sweat. Teachers of these not-to-be-mentioned classes would often call out commands like "Chisel your waist!" and "Lengthen your legs!"
I realized at some point that I'd been doing these workouts almost every day for years, perhaps developing "tone," yet somehow I still couldn't do pushups.
After some months of weight training, I've gained a few pounds, but now I can do pushups. Plus, my companions are all shapes in sizes, every color of the rainbow, ranging in age, with one collective goal to get stronger. It's a beautiful sight to see, and no one seems overly preoccupied with their leg length.
So this is my interest of the moment (subject to change next week), and I wanted to share what it's taught me about being strong in all kinds of ways:
Exhale during the hard part
That's what I hear ten times a session. Breathe in when it's easy, breathe out when it's hard. I didn't know this before. I thought it didn't matter how you breathed.
I also thought it didn't really matter how you get through the hard parts, so long as you get through them. I thought it didn't matter how you get through a terrible year, so long as you get through it.
What I've learned is that exhaling during the hard parts means giving yourself power, even while you struggle.
We probably all have a tendency to tighten up and self-protect during the most challenging moments of our life, worried that we'll lose ourselves if we fully release. But perhaps you've noticed that when you surrender to the power of a great challenge, you can move through with more ease and less strain. The pain doesn't linger quite as long for those who demonstrate their own humility by giving in to hardships with a big breath out.
Plant both feet evenly
I'm a big cheater when it comes to exercise, and lifting weights is no exception. I quickly found that if I distribute my weight unevenly in favor of my toes or heels, the move is easier.
However (hmph), I can tell that I don't get the full muscly benefits when I do that. With firm even feet planted into the floor, I feel every one of my little fibers working: All hands on deck! I hear my body's muscle director command.
This transfers quite beautifully to emotional or mental pain as well. We (I) do everything we can to figure out how to avoid pain—by buying things, numbing out, sleeping, pretending we're fine—but distracting ourselves never allows us to be transformed by our most painful moments.
Anything we pay full attention to has the potential to teach us, and discomfort will deliver a master class if we plant both feet on the floor and let it change us.
Envy functionally
Weight training has given me a delightful gift I call "functional envy." This is different from "useless despicable annoying envy," which is what I usually have.
I am used to being jealous of everyone else during a workout: their fabulous matching legging sets, their cheerful ponytails, their endurance during the thigh portion of class.
I've heard that comparison can help you learn more about what you want, but all my comparisons are egodystonic, or against my actual values. Plus I can't actually become a tall Italian woman with a seemingly limitless legging budget, so the helpfulness of comparison certainly ends there.
BUT! I can become stronger. When lifting weights, the only thing I'm really jealous of is people who can lift heavier. And whenever I think such a thing, I remind myself, "How do you think they got there?"
And I remember to keep going, which is also what I have to remind myself when I wonder how to get better at Spanish, how to play piano, how to finish writing the book that I haven't started yet. Keep going, keep going, keep going.
How you do one thing is how you do everything
Every time I lift weights, I bring my whole self with me, for better or worse. That's the self who did ballet and yoga for 20 years, meaning that I might be a more persnickety with my alignment than a guy who came to the gym from his shift as a brick mason.
Sometimes I feel like demanding gracefulness in myself is holding me back, but then I remember the very best thing that someone said to me right after my father died:
You'll get through this with strength and grace, because that's who you are.
You don't hear "strength and grace" together every day, but I say it to myself when I'm having a particularly hard time surviving another deadlift. Strength and grace. THAT'S WHO YOU ARE.
It reminds me of the stunning truth that how you do one thing is how you do all things, which I remember when I'm quickly debating whether to run after that paper I accidentally littered when the wind swept through, or when I'm deciding what I want to say during an argument.
Strength in one area inspires strength in another, so I hope that all these squats and snatches add up to something beyond biceps (although please lord let them add up to biceps).
I want to approach the rest of my life the way I approach the dumbbells: with interest, humility, optimism, care, good music to get me through, strength, and grace.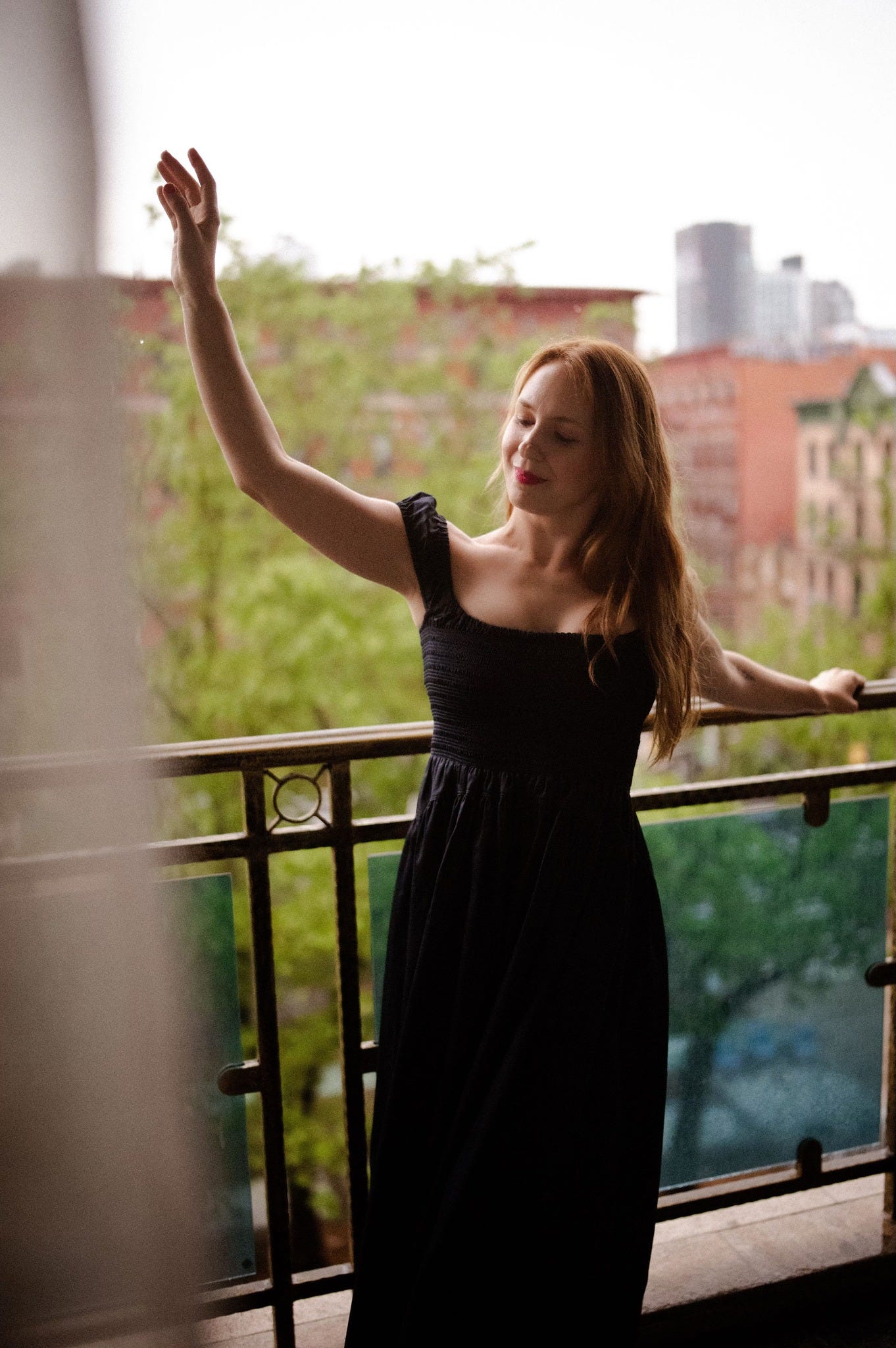 Photo by Carol Wild
P.S. I've been having a blast delivering soulful messages in response to your beautiful questions! I spend a few hours with each question, then I send you a loooong message (sort of like a personalized podcast :) and email with resources and recommendations and insight from your astrology/human design, as well as my own experiences. Sign up here if you could use some guidance!
Welcome to Out of the Blue, a weekly reflection on something that's caught my attention, and an attempt to learn deep lessons from the shallow and light wisdom from the dark. Subscribe for free!