I have some stuff for you!
Invitations to my autumnal offerings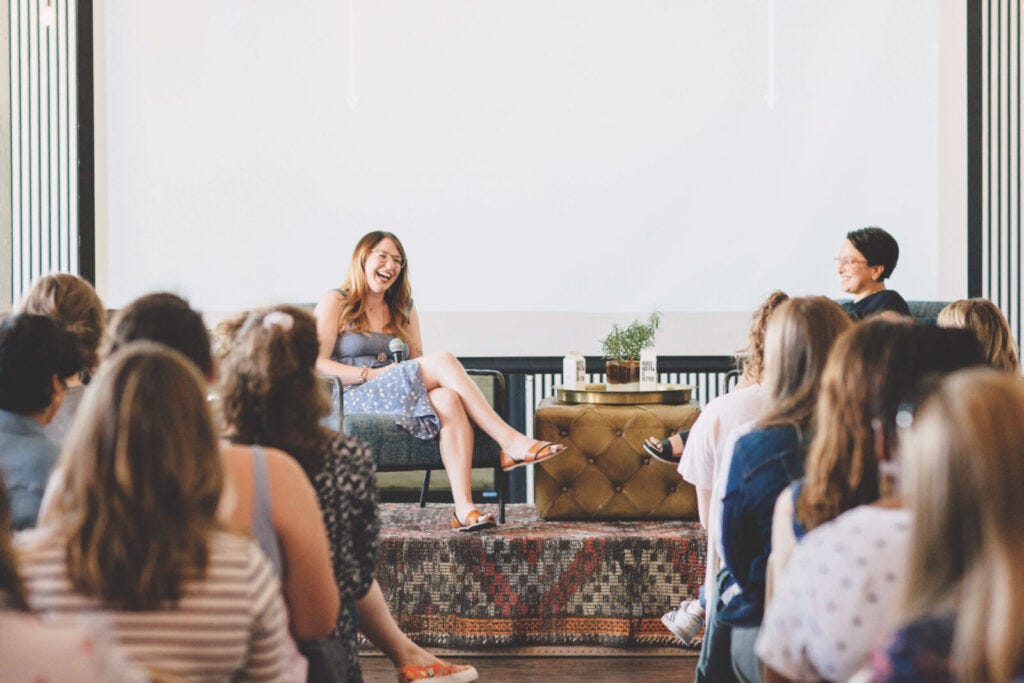 Hello Beloveds,
I've been thinking about how we can connect more deeply this season, and after going through your feedback and stories and what's on your heart, I'm extending the following four invitations over the next three months.
Each season, I will have a new list of offerings, so stay tuned for a fresh batch of invitations in December!
For now, you're invited to....
1. My Annual Fall Retreat
Next month in the mountains: My fall retreat this year takes place at Art of Living Retreat Center in Boone, North Carolina over the weekend of October 7-9. (That's next month!)
The title is 'Creating From the Soul,' and to me that means taking a cue from my inner child: remembering who I am at my core, and who I was before my ego started chasing the things I only think I want.
Many people who come to my retreats say that they would LIKE to be creative, they just don't give themselves time to do so, or they're intimidated to call themselves creative. If this is you, you're in the right place!
You'll have plenty of time to work on your own project (don't worry if you don't have one in mind yet), and I'll guide you through some writing, art, and nature walk prompts to get the soulful sparks flying.
This is an introvert-friendly, shy-friendly retreat, but it's also a beautiful opportunity to connect with like-minded people too. I think you're going to have a really special experience and I can't wait to meet you!
The retreat center itself is really magical, and I trust it will unlock something new in all of us. You'll be able to take yoga and mindfulness classes, eat good vegetarian food, and catch up on SLEEP too ;) among the Blue Ridge Mountains in the heart of fall. Wowza.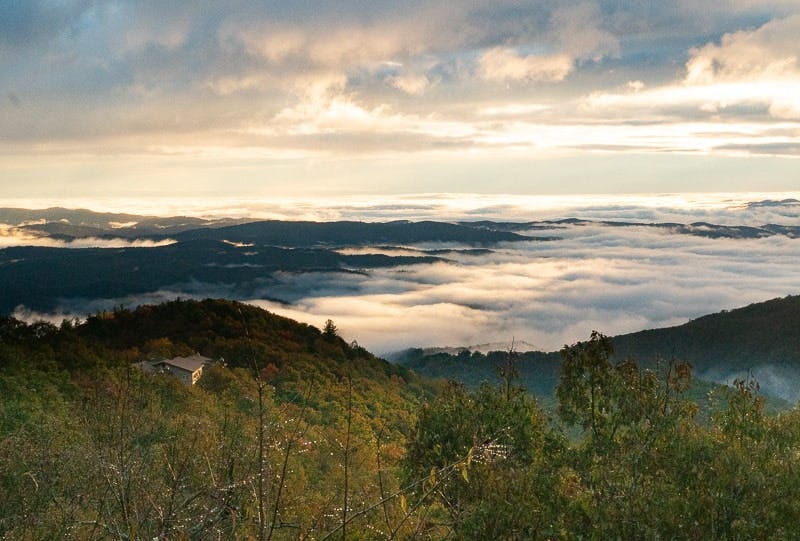 Want to wake up to this view??
Register here, and see you on October 7th!
2. Facebook Live: Studio tour and rituals
Half-tour, half workshop: Join me for a live walkthrough of my workspace (which I JUST finished decorating) and some rituals I've been doing to kickstart my creativity during this season. You can tune in live, or catch the replay later.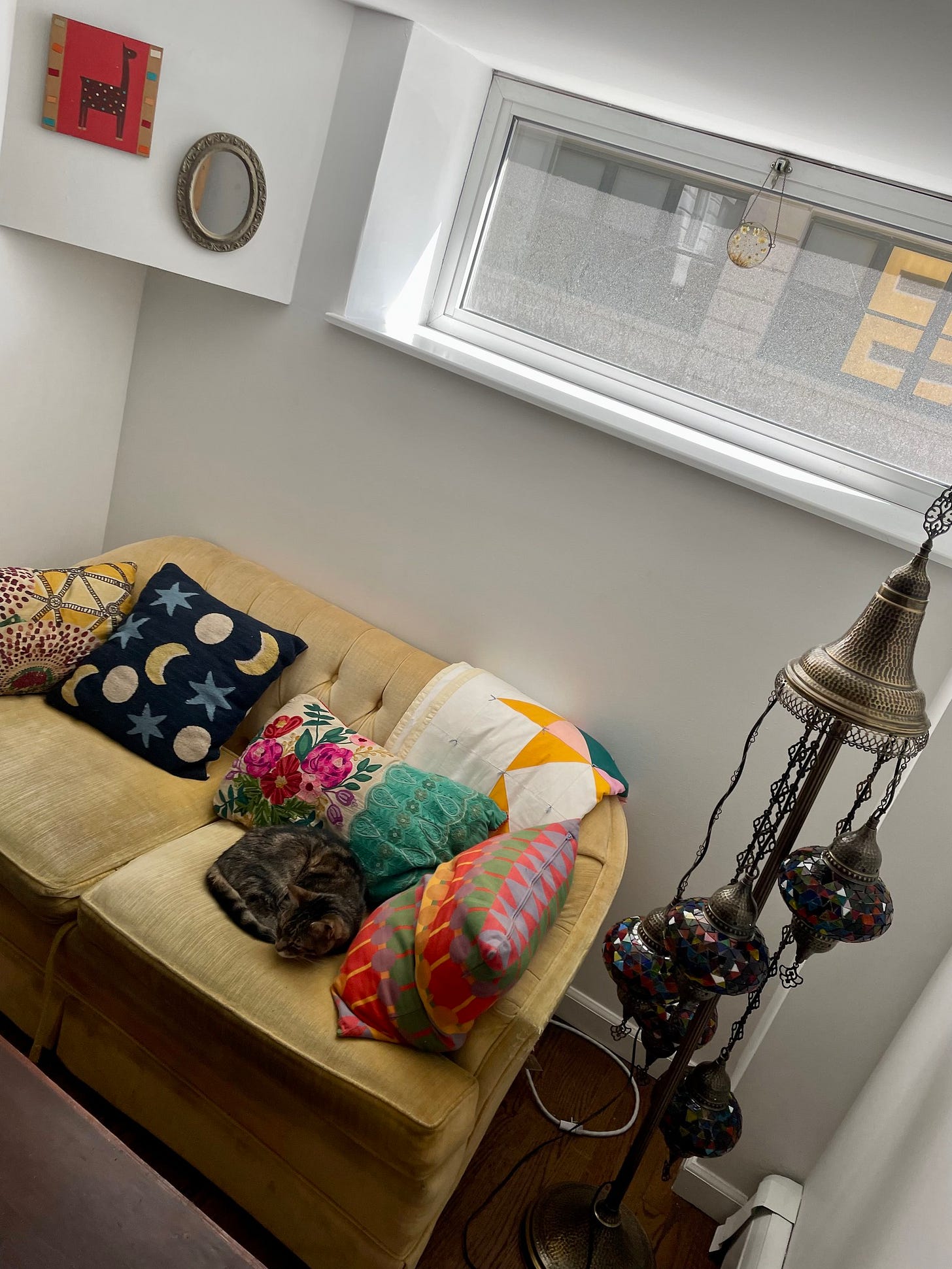 I'm going to take care of these wires and the window before the tour
FREE at 4pm EST, October 18th, here!
3. Personalized Mentorship Session
Guidance for tough questions: My favorite way to communicate is through long, detailed audio message and so I wanted to extend this offering to you all if you could use guidance of any kind during the next couple months (sessions close in November).
I will send you a 20-minute audio recording and email with resources (book/media recommendations, connections, additional thoughts, lots of love) in response to your questions about:
All Things Advice: Are you making a big decision, navigating the dating world, feeling stuck, moving through grief or heartbreak, and need a listening ear and some gentle suggestions?

Something you're working on: Do you need writing feedback, an artist pep talk, suggestions for the next step of your book or project?

Creative career: Do you need help writing a book, publicizing your art, or taking a hobby to the next level?

Spirituality: Could you use a reminder about your own inherent worth, a nudge in your divine direction, or guidance on connecting with your spirit after a period of neglect?

OR.......I'm open to ALLLL your questions and really look forward to hearing your story, hyping you up, and helping you out in any way I can!!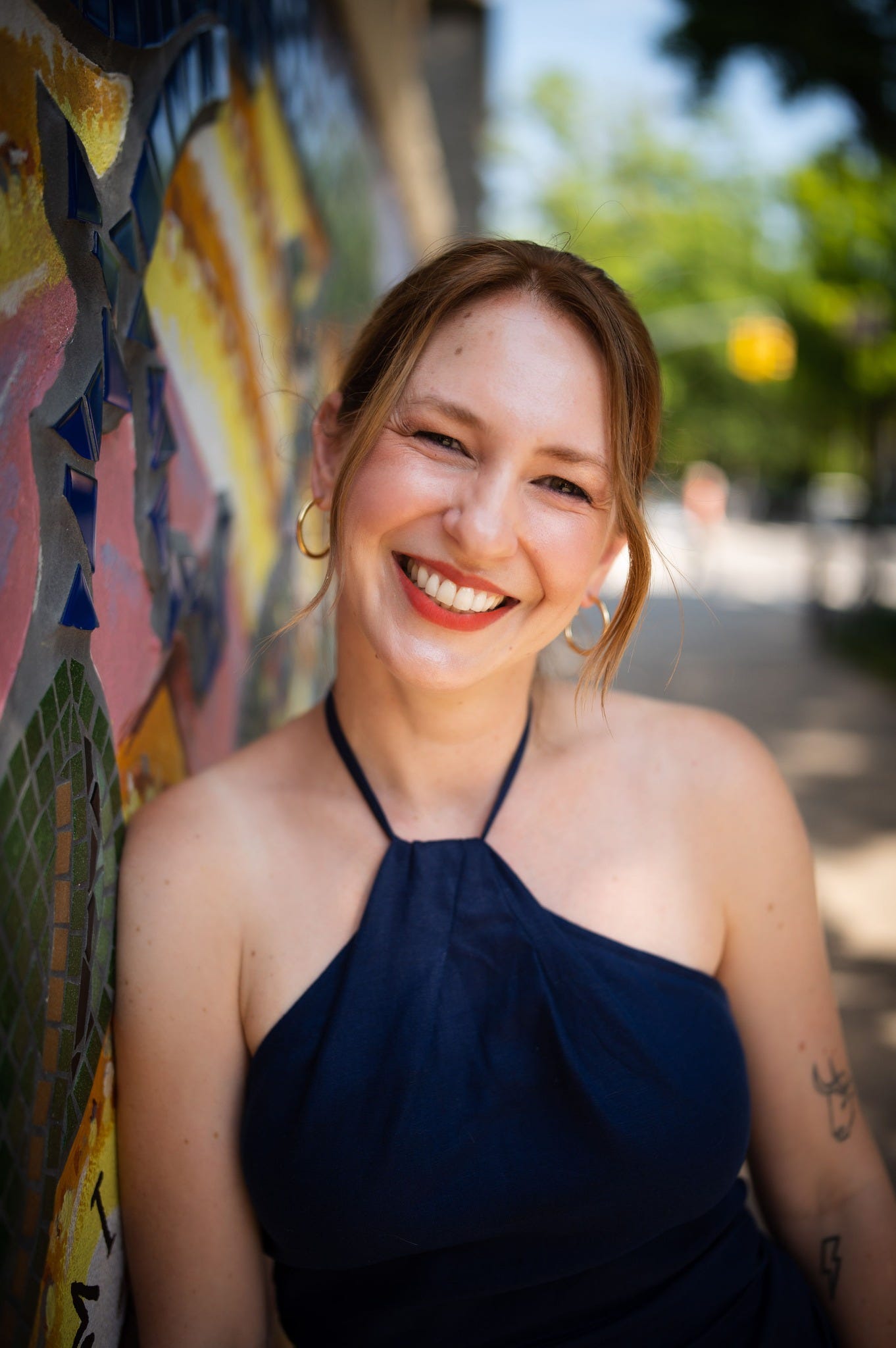 My face when I get to chat with you! Photo by Carol Wild
Claim your mentorship session spot here!
4. Print Sale
Lessons from oranges: I have some signed prints available that I'd love to send your way! The image is below, printed on 8.5x11" card stock. Price is $20, including free shipping to anywhere :)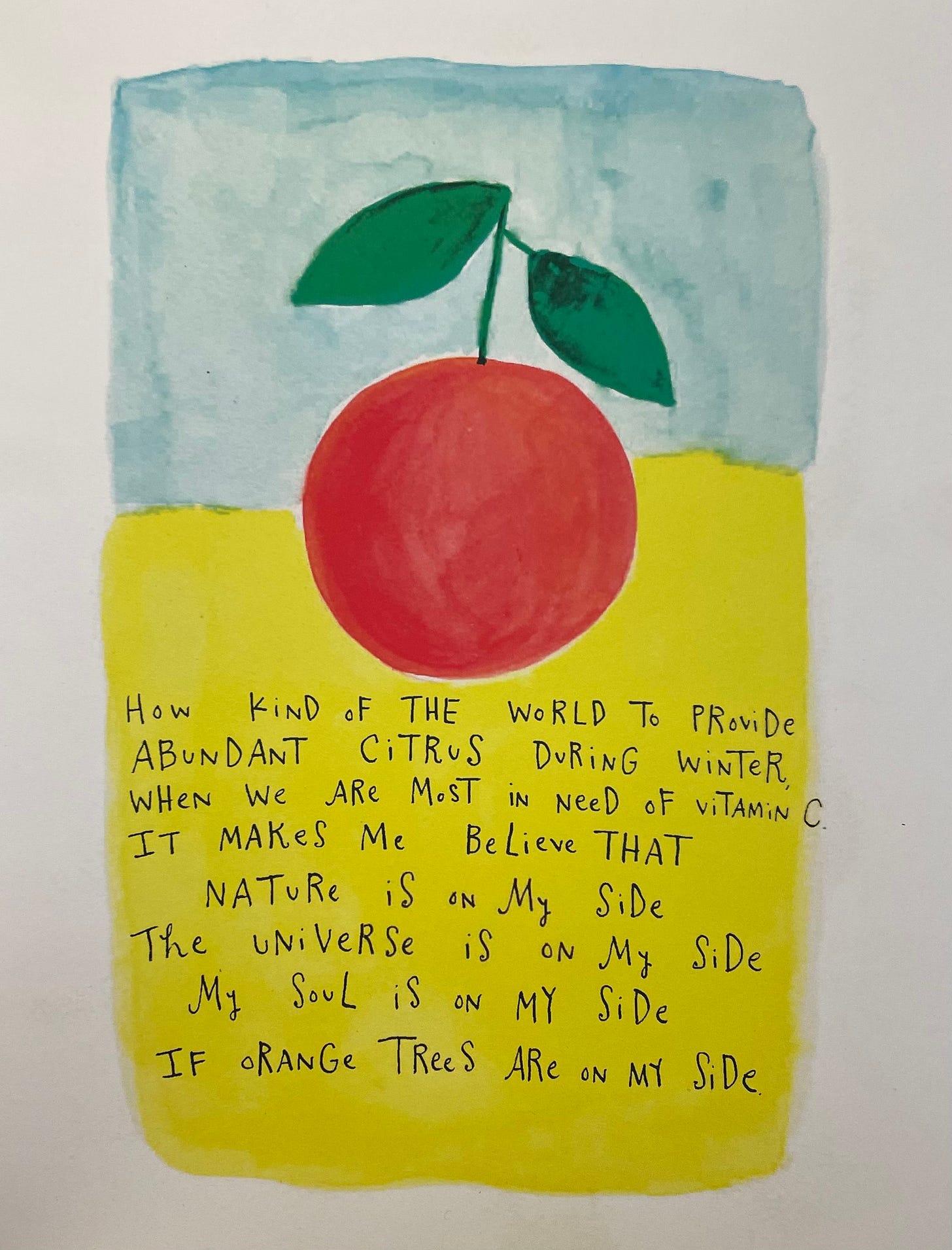 Happy new season, friends, I hope it's a restful or energetic one for you: whichever you need most!
Love,
mari