Discover more from Out of the Blue
By writer and artist Mari Andrew, exploring life's full range of colors
Over 23,000 subscribers
It's Unfair and It Doesn't Make Sense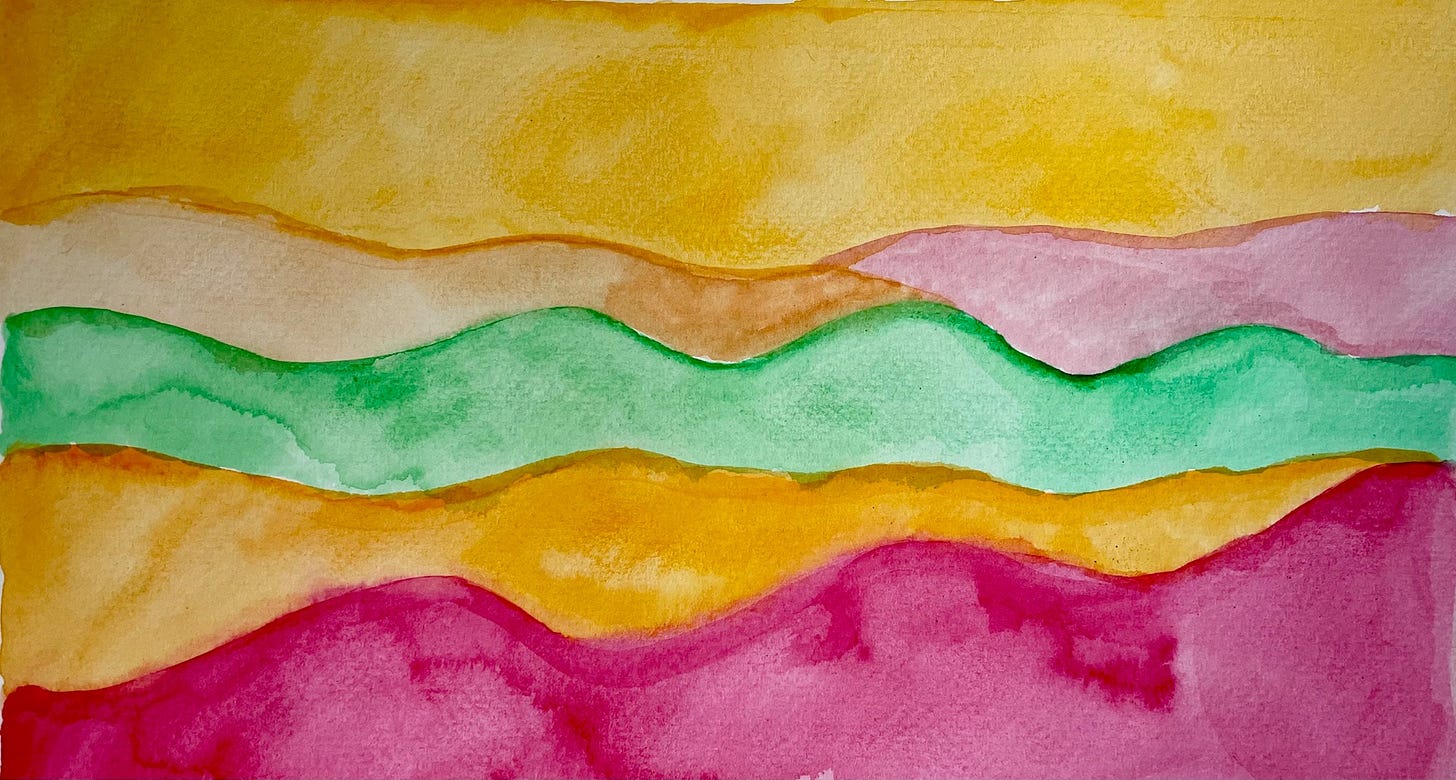 This one ended the way so many of my relationships have: abruptly, without warning, leaving a surreal haze of confusion and an impulse to frantically look backwards for clues in subsequent days. I become an archeologist of texts, moments, ignored signs: when he leaned over to the other side of the seat at the movie theatre? When he insisted on paying for what turned out to be our final drink: something that men have often done right before they leave me as a final act of charity? I become more machine than human, nit-picking every word and scrutinizing every ex-girlfriend and replaying every childhood story to make any sense of a three-month whirlwind that ends in familiar start: "I've been thinking about us, and…"
It is horribly painful, and my brain is desperate for sense.
"It's unfair and it doesn't make sense." That was the only thing anybody said that made me feel better. The breakup call ended at 2am and the only friend of mine who would be awake was in Australia. So, I left a half-hour audio message for Madeleine. And, as I frantically searched for medicine and meaning, she gave me this gift: There's no meaning to be found here. Put your pickaxe away, set down your magnifying glass, throw the research reports in the shredder. "In the universe I'm living in, this doesn't make sense."
A week later, a different friend will tell me that I haven't been manifesting hard enough; another will say that I should be careful of my tendencies to over-sentimentalize, which lands on my ear like saying I should be careful of my tendencies to get hungry: an inherent part of being the body that I am. I snap at someone who suggests that I "can make art out of this," as though I don't have dozens of heartbreaks in the vault, as though this pain exists for social media consumption, as though there's any purpose to it.
I roll the original mantra around like a marble in my head, knocking over the insulting attempts to rationalize: "It's unfair and it's doesn't make sense. It should have worked and it didn't. I can just hate it."
I don't blame anyone for trying to shove meaning or advice into the wound. As humans, we want something to offer. Much like a city dog who instinctively tries to herd his toys when there are no sheep to be found, we want to feel useful! We see a problem and instinctively think we have a job to do. This would be endearing if it weren't so annoying.
Though I've noticed we've been collectively examining our fraught relationship between self-worth and productivity the past 15 months, I don't think we've examined our relationship with offering enough. We want so badly to force a solution, a silver lining, an explanation, even a guarantee of doom ("Well, it sounds like you're just never going to find love").
I spent January-May of 2021 working as a chaplain in a hospital—in modern terms, that's someone who provides emotional and spiritual support to patients regardless of any religious inklings. I joked that I was "the cool chaplain," one who could easily minister to atheists and agnostics and Wiccans and Orthodox Jews alike. I came into the role with a good amount of arrogance about what I could offer: empathy, understanding, open-mindedness.
But my supervisor told me again and again and again: "You actually don't know what the person is going through. You might have shared their exact same illness, and you still don't know. You might understand their issues with their father, aspects of their identity, the specific things they miss about wellness. You still don't know. You have nothing to offer except presence. Just be a person."
The way our culture of offering is set up, the whole-hearted feel like they have something of worth to say to the broken-hearted, the denizens of the healthy think they know more than the sick. Around those who are in pain, people suddenly assume the role of expert: "I suggest feeling your feelings. Be grateful for the good in your life." Why do the perfectly-fine presume they have tools for the suffering? My supervisor reminded me, "The patients are your teachers. You don't know more than they do. Other way around."
It was so hard not to offer anything. I've been through enough that I know I shouldn't try to find a bright side, or explain away the pain, or say "I know how you feel," but it was extremely uncomfortable to sit with someone my age who was dying, or with the family member of someone who just got very bad news. I was in the position of helping them, and I thought that help meant I had to offer something. I had to leave them with a nugget, a mantra, something brilliant to soothe and uplift them.
But it doesn't work that way. On one of my last days, I sat with a woman who was going through a lot of emotional pain on top of physical: marriage troubles, financial woes, plus a really frustrating condition. "I'm a good person," she assured me, and recited me an autobiography confirming her thesis. "I've had a hard life and I've always been good. So why this?"
Trust me, I wanted so badly to teleport or moonwalk out of there as soon as I could. "Show up as a human," I mentally repeated to myself, and just sighed along with her. A co-sigh. "It's unfair," I said. "It makes no sense." When I said that, I could tell that she trusted me a little more. She softened and was able to laugh.
It feels so, so good to be a sage. I can easily see the appeal of being a cult leader. For someone like me, I get a hit of euphoric superiority when I'm able to give advice or a story that makes sense of everything: I make meaning for a living and I fancy myself spiritually-in tune. "It's not your first time around the sun," many older people have told me since I was a kid. I've grown to take pride in offering wisdom.
Chaplaincy humbled the hell out of me because the hospital is a place where nothing makes sense. There's no wisdom in a hospital room; there's just lonely beeping and chaos. Good people can pray really hard and never see a miracle; others get out easy for no apparent reason at all.
It would be intoxicating to offer wisdom, room after room. And, yet, when we offer wisdom or insight, we take away agency and grace. Paradoxically, the world makes a lot less sense when we think that everything is purposeful.
If we believe that the world makes sense, then good things have no choice of ever surprising us. If I manifest the perfect boyfriend, how can I be beautifully startled by him? What will he do but fulfill a specific and inflexible role in my life? If I believe that pain is a result, I'll live with eternal shame over an unknown action.
Whereas, if I acknowledge the world as an unfair place that doesn't make sense—a place that rewards bad people and punishes the good and gives love to some and ghosting to others and takes away wonderful people and keeps awful people in our midst and hurts and hurts and then bestows undeserved beauty—I'm more open to its nonsensical sweetness.
When New York was overwhelmed with suffering of every kind, it felt just as unfair that I'd hear a saxophone playing Somewhere Over the Rainbow on a perfect mid-summer day in the park. Why do I get to hear this? It's completely backwards. It makes no sense. It's unfair. "Why me?" applies to goodness as much as it applies to suffering. Why do I get to hear this song? But I do.
I've given up on manifesting, and assigning purpose, and turning over every stone for meaning, because acknowledging the unfairness of the awfulness makes room for the unfairness of the goodness. None of this is fair: the breakups, the sickness, the disparity, the and the saxophone solos. We don't deserve the bad and we don't deserve the good, but the flip side of unfairness is pure grace: Isn't that a better explanation than…everything happens for a reason?
With the illusion control over good things, there's no surprise of good things. I couldn't have manifested the saxophone solo because I didn't know it existed.
A few days after my abrupt breakup, feeling like I'd just learned how to sing only to have my vocal cords removed, I found grace at the beach. A storm had cleared the crowds and I was completely alone, with a spectacular sunset all to myself. I embarrassed myself/nature trying to take iPhone photos of something so sublime that it just looks silly interpreted by pixels. So I let the waves crash on my knees and thought about how the world doles out beauty to the in-love and the heartbroken alike. Nothing we do, and nothing we don't do, would stop them.
I was the only one who ever saw those particular waves at the particular time. Why me?