Discover more from Out of the Blue
By writer and artist Mari Andrew, exploring life's full range of colors
Over 23,000 subscribers
The best breakup advice I ever got
(and dating and love advice)

Valentine's Day is historically not a great one for me (greatest hits include: apartment building fire, dad's death, scary infection) but I insist on liking it because I love pink, hearts, sweets, and general silliness. And doesn't it feel a bit deliciously rebellious to love Valentine's Day, especially if you're usually single?
It's never struck me as a particularly romantic affair, but I'm well aware that a barrage of targeted emails from florists and ads for prix fixe dinners-for-two could make anyone spiral into a puddle of fear over a flower-less fate.
Seems like as good a time as any to discuss breakups, dating, and love. I'm going to be answering some questions on these themes during the week of Valentine's Day via Instagram Live. Feel free to drop any questions in the comments below and I'll answer them then!
In the meantime, here's a selection of the best breakup and dating advice I've ever received:
Marvel at the mystery.
When you're going through a breakup, everybody has a lot of opinions. While processing a massive shock to the system, you also have to wade through a whole lot of projections and directions, none of which match the specificity of this pain. It's a full-time job.
My angel/friend Matthias once sent me a gorgeous poem by Jan Richardson, and it was the exact nourishment I needed at a time when I couldn't hear another attempt to fix something with the wrong set of tools, or receive someone else's map to a place where I didn't want to go.
Sometimes there are no answers, there is no certainty, there are no lessons, there is no explanation; there is just an open wound. This piece meets a weak heart right where it is, not forcing any movement backward or forward:
Blessing for the Brokenhearted, by Jan Richardson
There is no remedy for love but to love more.
—Henry David Thoreau
Let us agree
for now
that we will not say
the breaking
makes us stronger
or that it is better
to have this pain
than to have done
without this love.
Let us promise
we will not
tell ourselves
time will heal
the wound,
when every day
our waking
opens it anew.
Perhaps for now
it can be enough
to simply marvel
at the mystery
of how a heart
so broken
can go on beating,
as if it were made
for precisely this—
as if it knows
the only cure for love
is more of it,
as if it sees
the heart's sole remedy
for breaking
is to love still,
as if it trusts
that its own
persistent pulse
is the rhythm
of a blessing
we cannot
begin to fathom
but will save us
nonetheless.
I love how the writer bows to the heart as a beacon of wisdom, the way I stand in awe of the birds outside my window who are building a nest after the wind carried away the last one.
"A blessing we cannot begin to fathom but will save us nonetheless" is such a tender surrender to the toughness of the precious heart who doesn't know what hit it, but is determined to keep doing what it does best: beating.
I find that when I give up my desperation to figure out, I can excavate the wisdom that is buried in the pain. Only then can I settle in the wonder of the unknown. What happened? I don't know. What comes next? I don't know. How do I feel? I don't know. How can my heart keep beating? I don't know. And isn't that astonishing?
If the relationship's not right for them, it's not right for you.
But you were perfect together. But she'll never find someone else like you. But his family adored you. But you felt understood in a special way. But you cared so much about them.
I know, I KNOW. But if it wasn't the right relationship for them, then it's not the right relationship for you, even if you don't know it yet.
During a breakup conversation, my friend pleaded her case: "I was going to get you such a good birthday present next month. I already had it picked out."
His reply: "Did it occur to you that I don't really care about presents?"
Despite the sting, that tells you everything you need to know: A relationship is not a match if it's only a match for one side.
Sounds basic, but this is really hard to get in our heads!!! It's hard in any area of life where we're vulnerable to rejection: a job search, sending our writing out to publishers, asking that hottie out for oysters.
After a rejection, our friends might insist, "They're missing out!" But to that I refute, "No, I'm the one missing out!" I'm the one who wanted the job, the publication, the oyster date.
To feel the agony of that—"I'm missing out on something I really wanted"—is a painful, but ultimately much shorter process, than ruminating over what went wrong. Ruminating is actually the opposite of 'feeling your feelings,' and a way to avoid mourning a loss.
It's easier in the moment to fixate on the analysis ("But I never even cooked her dinner, so maybe she doesn't know my full potential!") than to sit with the "This sucks. This hurts. I put myself out there and she didn't want me. That's really painful."
You can analyze for months/years about an imaginary relationship that is not the other person's reality (and, gulp, one that they may not ever think about)...or you can get busy grieving: the loss of connection, the throb of rejection, and the harrowing fact that you may never know why it didn't work.
I will share a very sweet sentiment from my friend Dave that cheered me up when I was in the midst of frantically searching for a reason why a guy would LEAVE OUR DATE IN THE MIDDLE OF DINNER: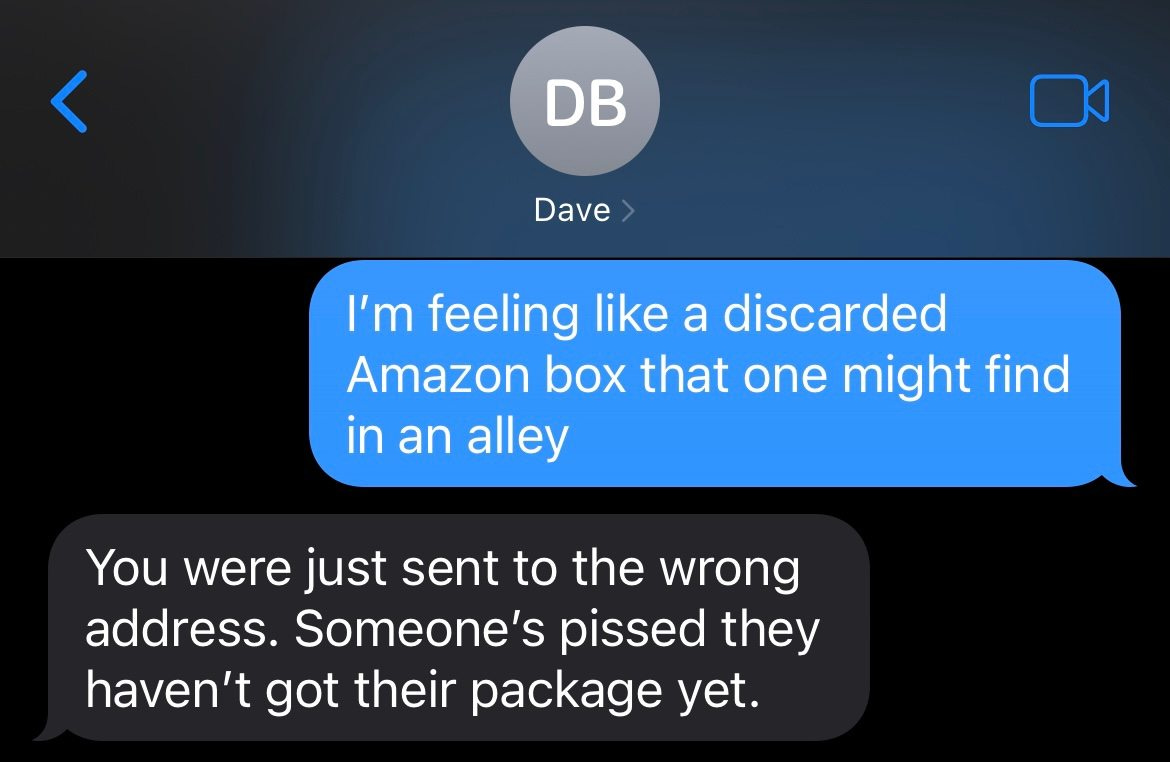 Sometimes it's as simple as that. Most of us will never know why we are a match for some and not others, but we can identify with a package shipped to the wrong person—and put in a request for a re-route.
Don't date anyone you wouldn't want to be.
I consider this the only dating advice one really needs.
Extend the love outward.
One of the many tough things about a breakup is that there's all this leftover love and emotion with nowhere to put it. As Carrie Bradshaw once asked, "After a breakup, where does the love go?"
How about this: Valentine's Day is a holiday where a lot of people feel really lonely. I generally don't believe loneliness is a problem to fix, but I'm talking about the canyons of loneliness here: people who don't have anyone to love. The thought easily brings me to tears.
Feeling sorry for oneself is time-consuming, and maybe that sorrow would want a different job? Maybe it would prefer to extend some compassion outward instead.
One idea is to make a hand-made Valentine card to an isolated senior through Meals on Wheels. Or take a couple hours to volunteer. Or walk a dog from the shelter.
Everyone wants to feel chosen. If you are grieving the loss of a relationship, you have some extra tenderness in your sweet squishy heart that could be used for exactly that purpose.
You're on your own journey.
Now that we no longer get into partnership as a family business deal, everyone comes to the dating table with their own motivations and set of values, which is why dating is so challenging!
Side note: I often get asked if dating in New York is as bad as it seems. To that I say: Dating is hard, period! It's hard everywhere because it's really hard to be open-hearted enough to share yourself and connect with someone else, yet protective enough to take it slow and prevent getting inordinately hurt. Pain knows no city!
Anyway, a while ago I started getting so confused and resentful as to why it seemed like everyone but me was in a relationship—something I really really wanted. I would walk down the street seeing dozens of couples hand-in-hand and think "How are you all doing this?! Did I miss the day at school where we learned how to partner up?"
I even shared my frustration with a dear friend who's had nothing but successful, long-term relationships one after the other. I told her that I envied her history and admitted to being a very jealous little potato who felt about as attractive as a crumpled-up receipt in the bottom of a tote bag. I asked her some version of a totally mature question like "Why has this been so easy for you and not for me?"
She graciously responded, "You and I are really different. I'm a relationship girl. I'd rather make an okay relationship work than be single. That's not you. You're seem to do well being single, and you want a very deep relationship. So it makes sense that you're having a tougher time, because you're looking for something that's harder to find."
Hmph, I thought. She's correct.
I would much prefer to be single than be in a less-than-spectacular partnership. Moreover, I'm aware that I have a very high level of needs, and I know that I bring a lot of intensity and big emotion to a relationship, which not a lot of people want (and I don't blame them!).
It was the first time I truly considered that not everyone wanted the same things I do. Radical idea to learn when you're 34!!
I learned that a lot of people—probably most people—actively avoid relationships that take an ounce more than they can give. I don't say this in any pejorative way; it makes sense. A lot of people would prefer a relationship that wasn't as deep over a relationship that demanded so much of them. Major revelation here as someone who is looking for that Isidor and Ida type of love.
Anyway, I started thinking about my ideal relationship as so ambitious that it was the equivalent of wanting to be an astronaut. I was looking around at all these couples on the street the same way I might glance around and wonder, "Why does everyone have a job but me?" Not taking into consideration that it's logistically easier to get an entry-level administration job than a career as an astronaut.
Once I acknowledged that I was looking for something so extraordinary it might not exist, that helped me soothe the pain of not finding it. "I'm looking for something a lot more rare, so it's going to be a lot harder to find."
Instead of writing jokes in my dating profile, I wrote earnestly about exactly what I was looking for (and yes I meant keyring):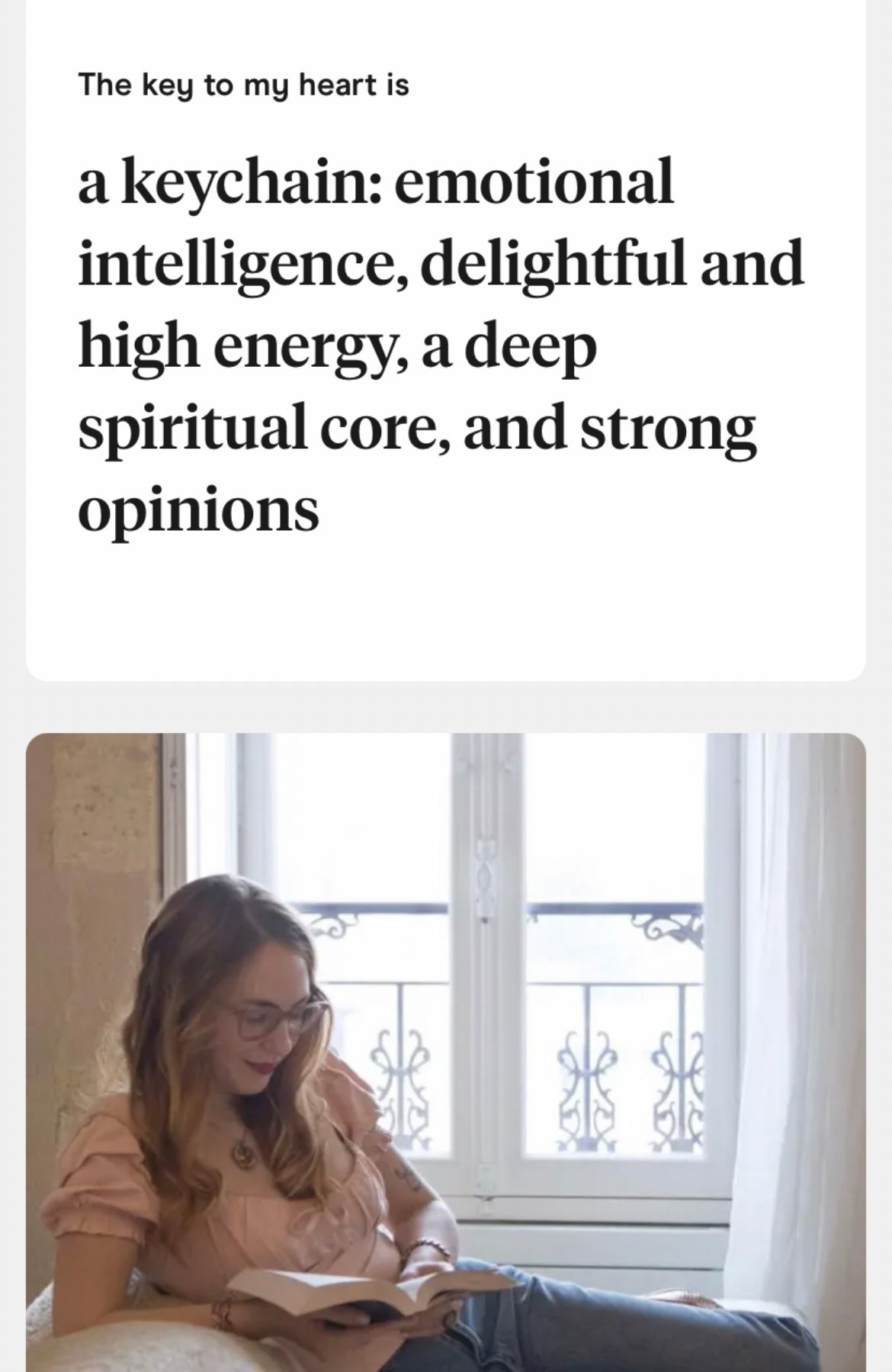 I kept in mind, "There's a very good chance I won't find this. But I'm going to try because it's what I want."
When I acknowledged that what I wanted was specific to me, I could more easily accept that what other people wanted was specific to them. Just as I'd be abundantly enthusiastic for a friend who recently secured a job as a data scientist, having zero interest in the field myself, I could be much happier for people in their own relationships—knowing that their joy took nothing from me.
We are hurt in relationships and we are healed in them too.
I got this line from this beautiful essay, a variation on a sentiment I've been rolling around my mind for the past couple years.
There's a rumor going around that "You have to love yourself before you can love anyone else" and I understand what that's getting at, but…I don't agree at all. Everyone is worthy of love regardless of their self esteem, and often it's in communion with others that we build our sense of worth.
I once thought you had to be healed and whole (two words that share the same origin) before finding love, but that's not true. That's probably a scam to sell guided journals and bath bombs, come to think of it.
You actually can love and be loved without going to tons of therapy, without "working on yourself," without building impeccable confidence, without having a bunch of hobbies and knowing how to change the filter in your water pitcher (still getting the hang of that). These things certainly help you in life and I recommend them, but they're not prerequisites to being a lovable person.
It's only through others that I've experienced healing: My friends illuminate for me my gifts that I don't see in myself, my community shows up for me in ways that I don't deserve, and my partner demonstrates consistent, unconditional love. It's in these relationships that I truly find my wholeness. No bath bombs needed (but preferred).
On a final note, art makes sense of our most confounding feelings. Here's a playlist I once made that hops around various stages and types of heartache into healing. I'd love to hear any favorites of your own!
Thank you for reading Out of the Blue, a weekly reflection on something that's caught my attention, and an attempt to learn deep lessons from the shallow and light wisdom from the dark. If you haven't subscribed yet, sign up for free here!