Discover more from Out of the Blue
By writer and artist Mari Andrew, exploring life's full range of colors
Over 23,000 subscribers
The Best Simplest Advice
The storm before the calm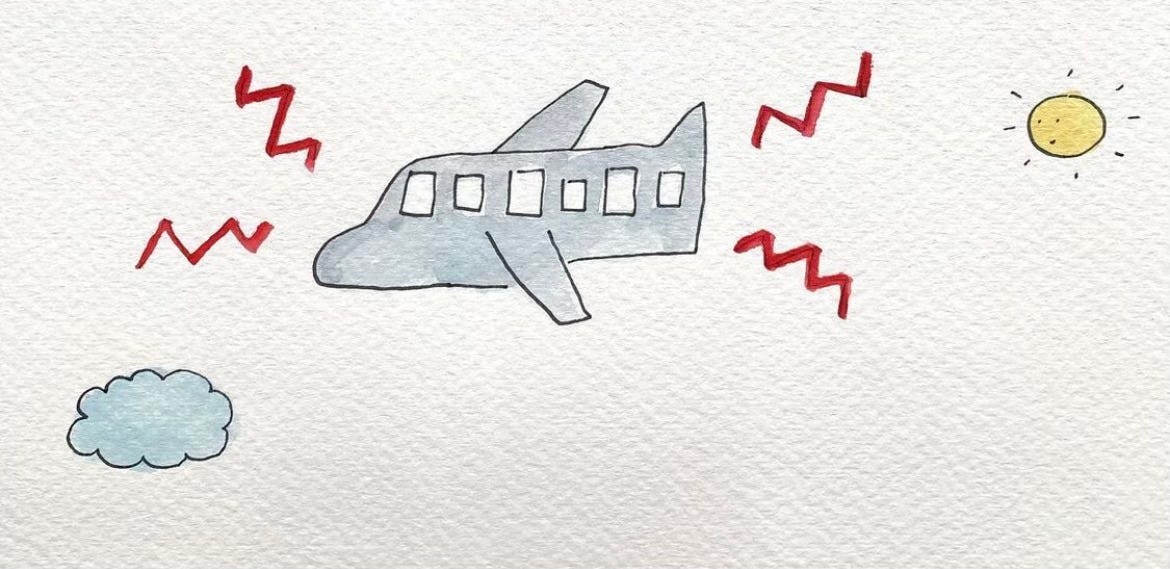 I'm not sure when we started saying it, but my friend Henry and I constantly remind each other:
There's turbulence before the plane hits cruising altitude.
I am a World Class Champion Flying-Phobe (though I just got a prescription for Xanax and now I'm an absolute pleasure to air-travel with), so I know all about how rocky and unstable the plane feels as it's ascending into the clouds.
I hate the part where we dramatically tilt sideways over the skyline, and I hate the part where we quiver mid-air and I have to grip the armrests in order to save the plane.
I'm basically existing in a state of near-death panic for the first ten minutes of the flight, certain that I know what the attendants don't: This thing is tilting way too far. We're practically banging at death's door.
And then, the ding of the seatbelt sign turns off. The pilot begins mumbling about weather and flight time, and sounds like he might have just popped a Xanax himself.
"You're now free to move about the cabin."
The attendants shuffle around with the drink cart and the atmosphere has become a serene coffee shop, with passengers clattering away at their keyboards with a ginger ale in hand, or drifting off to sleep while watching something with Julia Roberts in it (patron saint of airplane movies).
There's a comfort to how supremely boring it is now. Just a few more hours of sitting in this ergonomically-disastrous seat, listening to my neighbor slowly eat one nut at a time.
Anyway, that's the image I call to mind during any transition, no matter how brief.
For example, when you first arrive at a party and there's the whole song-and-dance of surveying the crowd. Did I meet them already? She looks interesting? Turbulence/unease/awkwardness. Then, some time later, I'm lost in conversation and my nervous system has fully adjusted to the social setting. Comfort, stability, presence.
Or when you meet up with an old friend you haven't seen in a while, and there's the inevitable hyper-awareness of figuring out each other's updated interests, speech patterns, appearance (since when does he wear Birkenstocks?). And then, somewhere between the first cocktail and the second "Jinx!" you're at cruising altitude: the straining for connection transforms into simply being connected.
There are more significant transitions this applies to: The first season of a relationship when foibles and misunderstandings are inevitable. You're still in search of that comfortable place where you don't live in fear that one little wrinkle will spoil the whole tapestry.
Or when you begin a new job. Or when you move. Or when something catastrophic upends your world, and now it feels as chaotic as an airplane tilting way too far to the left.
It reminds me of an adage about grief: Your grief doesn't get smaller, but your world gets bigger.
During the initial turbulence of the ascension, my fear is overwhelming; there's no song or mantra or breathing exercise that will transcend my primal terror. But during cruising altitude, the fear remains but the little world around me expands: suddenly I'm curious about all the personalities and purposes aboard with me, I'm excited for an impending snack, I'm immersed in the glitz of Crazy Rich Asians from my back-of-chair screen. When the seatbelt sign turns off, the fear is more manageable...and that's all I can really ask while hovering over the Atlantic.
I was chatting with my dear friend, a new mom, who is navigating the puzzle of identity and motherhood and sleep all while she tries to keep her baby alive and well. I don't know much about motherhood, but I DO know about flying, and I was relieved to hear this actually resonated with her:

I used it later to simplify the root of my friend's anxiety as she starts dating again: her mind may have reached 10,000 feet but her heart was still bumping around on its climb toward trust.
It's such a simple concept, but the visual of a nauseating take-off before a period of stability has comforted me in so many instances that I wanted to pass along that comfort to you.
If you find yourself in a season of turbulence, do know that:
a) This is unpleasant, but it's safe.
b) The drink cart is just a few minutes away.
Welcome to Out of the Blue, a weekly reflection on something that's caught my attention, and an attempt to learn deep lessons from the shallow and light wisdom from the dark. If you haven't subscribed yet, sign up for free here!